Cottages
Check our full offer in the catalog below or use our store offer:


Assembly-video
Garden cottage or summer house

A garden cottage or summer house is an irreplaceable part of the garden architecture or a recreational plot. Practical and functional it will enable comfortable rest and relaxation after work, but also can be used to shelter or store the necessary items in the garden or on the plot.

A garden house is also a natural landscaping of a garden or plot. Garden houses can be made depending on the purpose of different materials, for example, wooden houses, cottages made of plastic, as well as metal houses. Many of these proposals for garden houses, garden compartments can be painted by matching the facade to the garden decor. In our store you will find many different models - small large, single-storey, two-story houses and various applications. Wooden garden house or summer house (with floor included) is a complete construction that allows not only to live in it but also can be used to store the necessary items on your plot.


Garden houses, cottages, garden storage

Many proposals make you find what you need for sure. Are you looking for a house with a veranda or terrace? Or maybe you dreamed of a summer house with a carport? In our range you will find these and other offers. And regardless of what you choose a single-story or one-story garden house, a garden or garden canopy, you'll always get it ready for immediate installation on your garden plot or any other place.

The offer of garden houses, summer houses Karibu is an offer for you


Your plan of a garden house (summer house) from A to Z



If you decide to get a KARIBU garden house, your wishes are not limited. Is it a place to relax, or a place to store garden tools: in our garden sheds you will always find the right solution. We offer various models in the following colors: terragrau, opal gray, auburn and ivory. In addition, many models are naturally natural for painting. Thanks to this you can realize your personal desire for your color. To get information about your new project, in our guide you will find all the information about the garden house.

What are the types of garden houses?
System houses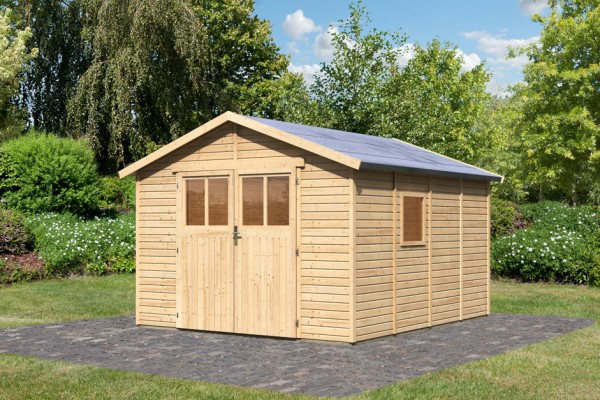 The system houses are ideal for self-assembly thanks to a simple plug and screw system. We use high-quality wood from Scandinavian spruce, thanks to which we guarantee perfect milling and precisely matched seat, in which we can distinguish different wall thicknesses of 14 mm, 19 mm, 28 mm, 38 mm and 40 mm. The resulting joint edges are completely covered with additional protection in the form of patches. Thanks to this, corner joints are reliably protected against wind and rain. The waterproof profile and wide roof overhangs provide additional protection against weather conditions.

Block system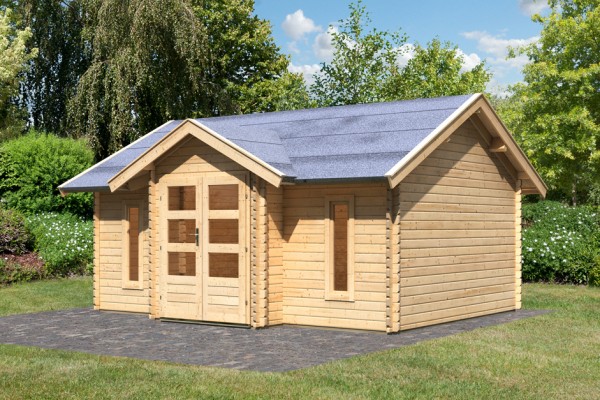 The block system owes its name to wall panels, to the walls that make it. Premium walls with a thickness of 28 mm, 38 mm or 40 mm are planed from Scandinavian spruce. Adjacent rings provide greater durability and resistance to weather conditions. The patented 6-Plus corner connector is used here, which not only ensures easy installation, but also guarantees high wall stability. The individual boards are overlapped and then screwed together. The high accuracy of the board fit is ensured by modern milling technology (CNC technology). Due to the corners, the log house is additionally additionally sealed against wind and rain. The protruding ends of the beams are perfectly complemented by appropriate cuts. Due to the patented direct mounting of individual boards, no reinforcing rod is required as additional wall protection, which means that the house remains largely maintenance-free: protruding rounded ends are perfectly rounded by appropriate cuts.



Garden sheds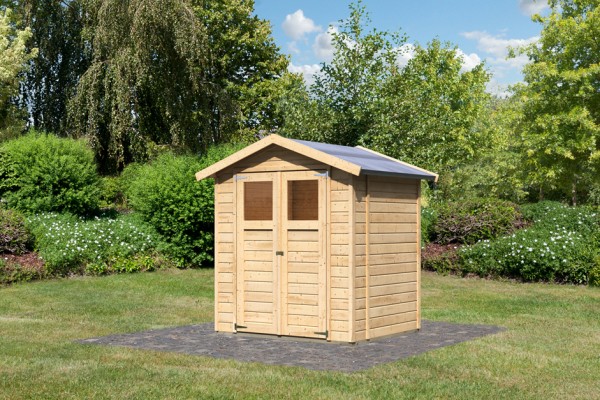 If you need additional storage space for garden tools, our Garden Raccoon series is just what you need. The shed does not take up much space in the garden, but offers a lot of storage space. Our sheds have a wall thickness of 14 mm and are made of durable wood from Scandinavian spruce. Mounting additional shelves and cabinets in the equipment shed is not a problem. Additional mounting options such as cabinets can be assembled at any time and ensure functional use.